Background
Dr. Chuang is a gum disease specialist in Australia. He treats patients with painful gum conditions who experience bleeding gums when they brush. This early stage of gum disease is known as gingivitis, and if left untreated, a condition called periodontitis can develop that affects the tissues that hold teeth in place.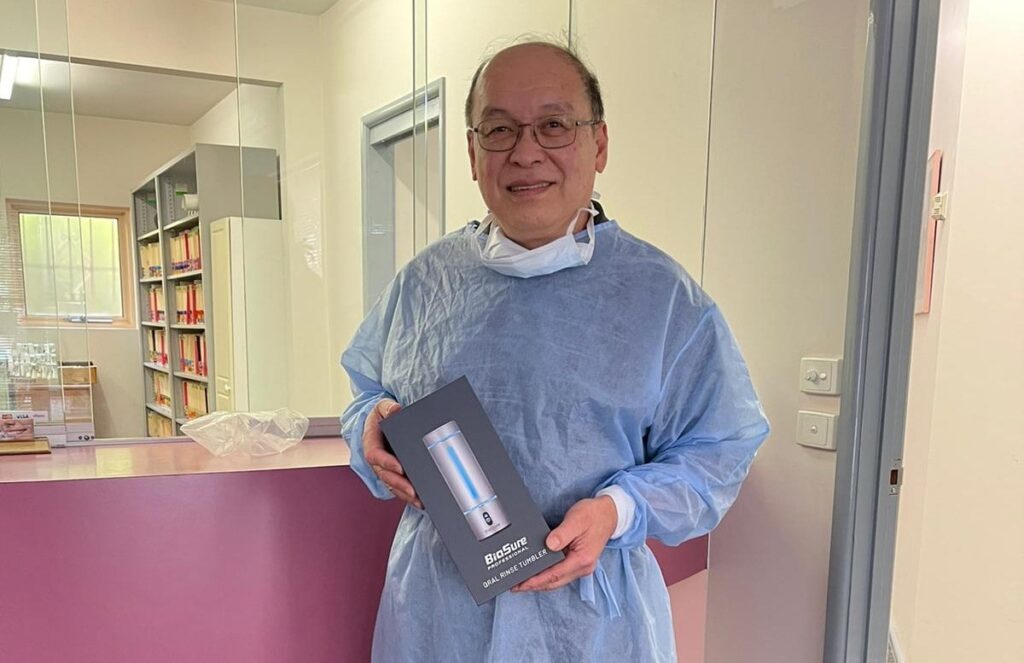 Problem
Dr. Chuang was looking to offer superior care by minimizing gum bleeding between treatments when patients brush or floss their teeth. He was looking for a way to reduce conditions that the patient came in for before, during, and after gum disease treatment.
Solution
Dr. Chuang tested the Tumbler by BioSure for two months on himself during morning and daytime rinsing. He found that ozonated water from the tumbler minimized gum bleeding after flossing. He prescribed the unit to patients with gum disease to use between treatments. After prescribing rinsing with the tumbler to patients, he was able to examine the health of the gums, discovering that gum bleeding reduced — and that patients wouldn't have recovered as well without the tumbler. The ozone tumbler effectively reduced the amount of blood after flossing. Previously, he would prescribe drugs like antibiotics to control the bacteria known to infect patients with gum disease. But twice a day rinsing with the tumbler was enough to prevent such complications and was able to prolong the benefits of gum disease treatments after the first week of rinsing.
Now that Dr. Chuang has implemented ozonated water solutions for the benefit of his patients, he is looking to implement BioSure's Post-filtration Disinfection System (PFDS) for eliminating biofilm buildup that tends to affect dental unit waterlines with ozonated water.